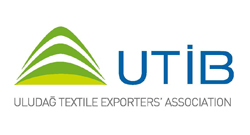 Uludağ Textile Exporters' Association (UTİB)
Uludağ Textile Exporters' Association (UTİB) was established in Bursa in 1986 within the organization of the Uludağ Exporters' Association. As of 1 January 2023, UTİB has 3.462 active members.
Today the Association exports to all continents in the world, especially to Germany, USA, Spain, UK, Romania and etc. approximately 160 countries and regions; the total export reached $1.352 billion by the end of 2021. In recent years, Uludağ Textile Exporters' Association organized many congresses, workshops, International R&D Brokerage Events, represented the country in international fairs, invited buyers' delegations, set up trend areas, seminars, training sessions, Start–up Challenges and other events. In addition, with the projects and activities it has taken on, the Association has been successful in being a model organization within the sector and for other leading sectors.
UTİB obtained fruitful results from the R&D Project Market that have been run for 10 years in order to support the textile industry -Turkey's top export-oriented sector- integrate the industry with R&D efforts, encourage university - industry partnerships, and boost Turkey's exports. UTİB has contributed to the completion of numerous studies, encouraged young researchers, and helped companies refresh their vision. UTİB is happy to be a pioneer in this field. Based on such a vision and strategic perspective, in the 11th year of the program, UTİB has shift the focus on 'Initiatives and Partnerships Creating Value in Technological Areas'.
With 'TechXtile Start-Up Challenge' UTİB is receiving feasible, marketable and scalable applications featuring technological innovation and in depth, preferably prepared with team spirit, which support national and domestic production. UTİB will support entrepreneurship / innovation via training and mentoring, bring the candidates together with potential customers, to help them turn into companies, and to drive forward outstanding initiatives by means of incubation and other forms of support.
On the other hand, in 2022, we gathered all our activities related to entrepreneurship under a single roof, under the name TECHXTILE PLATFORM, in order to bring a constantly living and developing entrepreneurship platform to our sector. This work will continue in the following years as well. "TECHXTILE START-UP CHALLENGE" where innovative ideas of entrepreneur candidates compete, "TECHXTILE INNOVATION LEAGUE" where innovative applications made in institutions compete, "TECHXTILE MIND-IDEA MEETINGS" that develop and inspire the ecosystem, "TECHXTILE ACADEMY" which hosts many valuable trainings and finalists and "TECHXTILE MEMBERS' CLUB", where applicants are constantly supported by their membership, will be held within the TECHXTILE PLATFORM in the following years as well
Due to the declining natural resources and the increasing world population, effective use of resources has become a policy that should be implemented in all industrial branches. Technological, ecological and social changes have brought about changes in the norms of needs and it has emerged that industries should turn to sustainable and environmental strategies.
In this regard, Uludağ Textile Exporters Association is also working on ecological production centered projects in Home Textile and Clothing Fabrics sector. Environmentally friendly production processes comply with global norms is necessary both for the healthy future of the world and for the development of foreign trade.
The textile sector is one of Turkey's traditional branches of industry and it stands as one of the benchmarks in the success story of the country's exports. The Turkish textiles and ready-to-wear apparel sector as a whole is the leading industry to produce the greatest foreign trade surplus.
The Turkish Textiles Sector holds a special place in the world in terms of product quality, is a trendsetter in fashion and using the latest technologies. The sector is also a leader in terms of its share in GDP and in its use of local input; this characteristic of the industry forms the basis of its presence in global markets.
Turkey is the biggest textile producing country on the European continent. The third largest textile exporter of Europe, The seventh largest apparel exporter in the world, the fourth largest apparel supplier of Europe, the fourth interior textiles exporter in the world. It is the world's seventh largest cotton producer. Turkey's share in world textile exports is 3%, and 4.5% in home and interior textiles; its share in technical textiles is 1.5% (2022).
All in all, Uludağ Textile Exporters' Association establishes communication and coordination platforms, supports individual progress and recognition of achievement, open to exchange of ideas, critical thinking, promotes global awareness, support creativity in all fields of the sector, diversity in research and ideas and promote cooperation